What is Bounce Rate?
In Universal Analytics, bounce rate was defined as: "The percentage of single sessions in which there was no interaction on the page".
In GA4 however, bounce rate is defined as: "The percentage of website sessions that were not engaged sessions."
An engaged session lasts for 10 seconds or more, has either 1 or more conversion events, or 2 or more page views. If a user doesn't meet any of the criteria, GA4 will count their session as a bounce.
For example, if a user visits your website, reviews a page for less than 10 seconds, and then leaves without triggering any events, or visiting another page – that session will count as a bounce/non-engaged session.
What is a Bounce Rate Benchmark?
According to a recent study conducted by Siege Media, a good bounce rate is around 50%, with blogs having a higher "good" bounce rate of up to 80%.
How to Calculate Bounce Rate in GA4
To calculate your website's bounce rate in GA4, use non-engaged sessions.  For instance, if you had 20 sessions with 15 of those counting as 'Engaged Sessions', the calculation goes:
5 non-engaged sessions/20 sessions = 40% bounce rate
So your website's bounce rate is 40%, and the engagement rate is 60%.
If you still want to see your site's bounce rate – instead of calculating using the engagement rate, you can adjust columns in GA4 to display it. To check your bounce rate in GA4:
 Go to the "

Reports

" tab.

Then click "

Engagement > Pages and screens.

"
Use the pencil icon at the top to customize the report.

Then select "

Metrics

" on the sidebar.

Click on "

Add metric

" 

And scroll a bit to choose "

Bounce rate

".

Click and drag the 6 dots beside "Bounce rate" to display it amongst the first columns. Then select "

Apply

.

Select "

Save

" > "

Save changes to current report

" > "

Save

"
Navigate back to check if you've successfully customized the report to include bounce rate.
Note: If you are fine with using only the engagement rate, simply subtract it from 100%, and you will get the bounce rate.
Is Bounce Rate Important?
Relying solely on the calculation of a website's bounce rate to determine the percentage of disengaged users might not be entirely accurate. User bounces can occur because:
Readers found the answers they needed, so they didn't bother to stick around. They could also return later, as it can take a customer up to

500 touchpoints

– depending on your solution's complexity – before making a purchase. Be patient and value the user's experience above anything else. 
If you're interested in learning more about your readers and collecting feedback from them – I've added methods you can use later in the article.
What Then Are You Optimizing Bounce Rate For?
Essentially, you're optimizing the bounce rate for users on your website to:
Explore more content

Learn further about your solution/product
True, right? 
So here are some tips you can use to lower your site's bounce rate.
Implement these 7 Tips to Increase Engagement and Reduce Bounce Rate
Have a great content UX

Optimize your website's technical experience

Kill the popups

Add CTAs for 'next content'

Include purchase CTAs

Does your content resonate?

Build trust with users by adding social proof
1. Have a great content UX
Take SEMrush for instance:
Their blog excels in this aspect.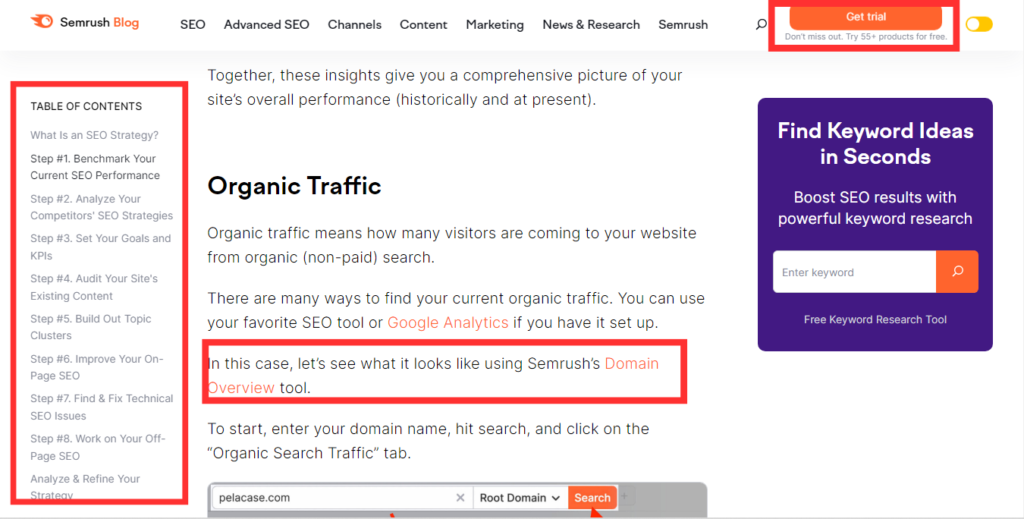 It uses ample amounts of white space, a legible font size, and a table of contents for easy navigation.
Distinct calls-to-action guide users interested in related content and the product, while the homepage showcases testimonials from current product users. Talk about a great user experience for readers!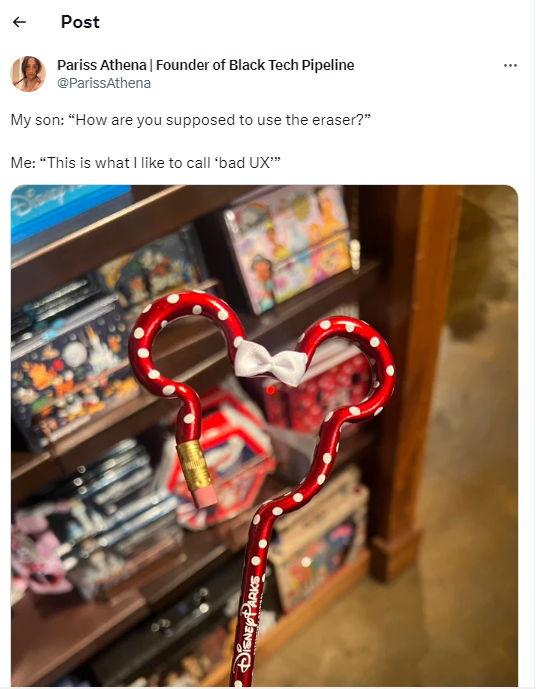 (Source)
2. Optimize your website's technical experience
Optimizing page load times on your website creates a friendly environment that encourages users to explore content further, rather than leave due to frustrations caused by slow loading.
You can use a tool like PageSpeed Insights to audit your site's mobile performance, accessibility, image best practices, and SEO. 
Common methods for enhancing loading speed include:
– Implementing a content delivery network (CDN)
– Minimizing HTML, CSS, and JavaScript
– Eliminating unused codes
Also, find and fix broken links on your website to help readers access pages better. The last thing readers want to see is a 404 page while exploring your content.
3. Kill the popups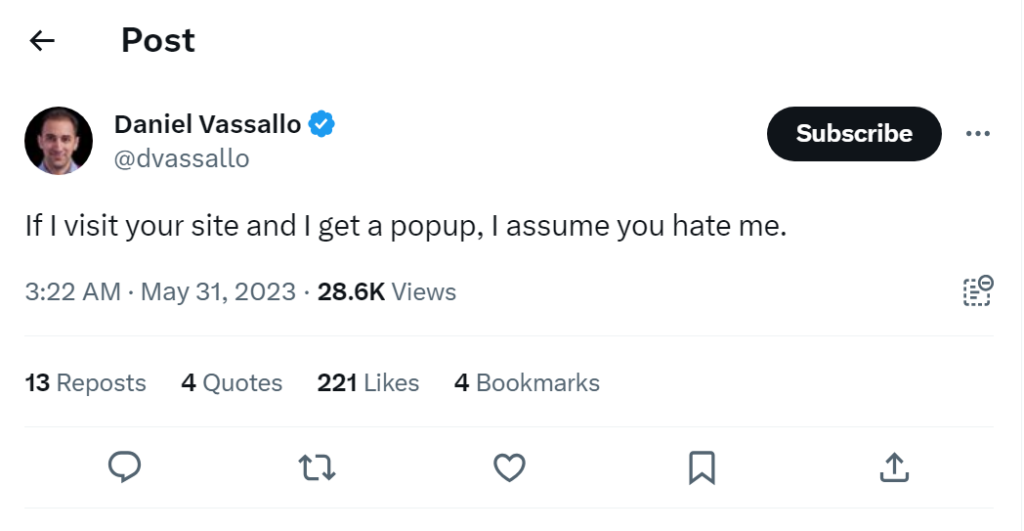 (Source)
Eliminate popups so readers and visitors can find what they need – without getting irritated. 
In a recent G2 survey, 82.2% of participants expressed a dislike for website email pop-ups. Of those, 45.6% disliked their widespread nature, while 28.6% were bothered by their immediate appearance upon landing on a site.
I mean, how would you like someone interrupting while you read a newspaper or a book for example?
Let the content do the talking, and readers will inquire about your product when they are ready.
4. Add CTAs for 'next content'
One of the criteria needed to have an engaged session on your site is for a user to visit more than one page, so try including calls-to-action that direct them to more content they'll be interested in.
WordPress users can install the free Ultimate Post Kit Addons plugin to display more relevant content for readers. Some themes also have this feature enabled by default.
5. Include purchase CTAs
Once more, avoid pop-ups. 
Instead, naturally add links to direct readers to relevant pages and content about your solutions. For an effective purchase CTA, consider placing a clear primary call-to-action, such as a 'Try now' or 'Sign up' button, in the upper right section of your website's navigation — similar to what you'll find on our website.
Slack does this well.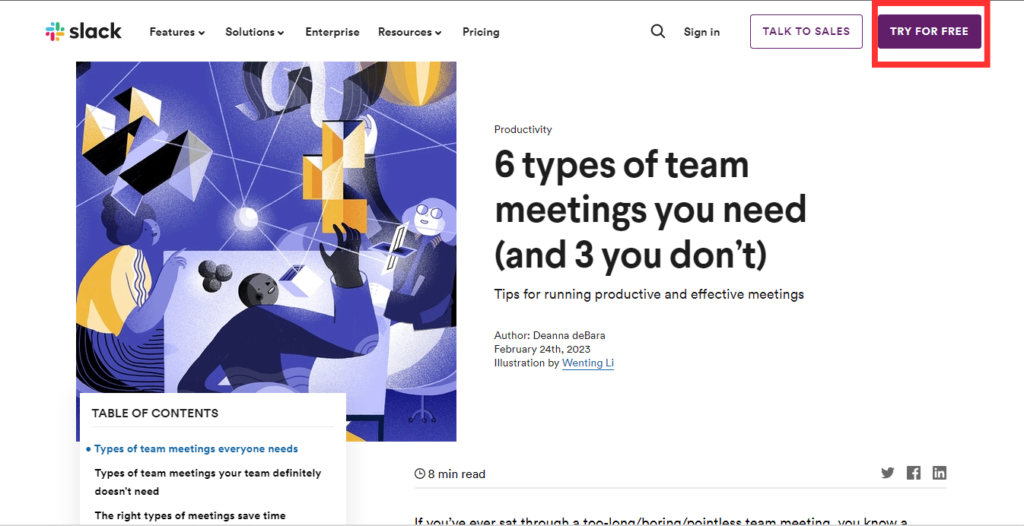 (Source)
6. Does your content resonate?
Sometimes, users leave because they don't get answers to their questions.
But how would you know? Checking bounce rates? Traffic?
The answer is straightforward: inquire. 
Use a Rockee feedback widget to understand why, by gathering ratings and collecting feedback from readers on areas for improvement.
Implementing their suggestions would improve your content's quality, and help you capture the reader's interests effectively.
7. Build trust with users by adding social proof
You can also place Rockee Trust Badges on your website to show users proof that readers love your content.
Below's an example of a Rockee Trust Badge on the Thomas blog. The content was rated an average of 3.73/5 from 91 reviews: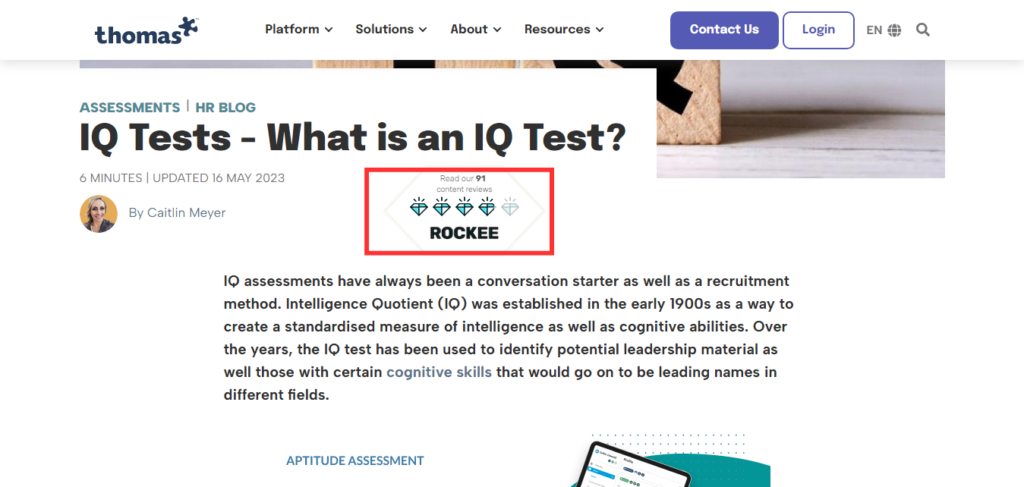 (Source)
How Content Feedback Reduces Bounce Rate
If readers' feedback and ratings are consistently good, you can assume you're helping readers out. Focus on SEO optimization to enhance its visibility – and use feedback through a tool like Rockee to create better content.
However, if feedback and content ratings show that the content is not so good, and bounce rates reinforce the point – use the feedback collected to optimize the content and reduce its bounce rate.
And yes, we've got a free plan if you want to give it a trial.😉
How to Reduce Bounce Rate (FAQs)
What is bounce rate and how do you improve it?
Bounce rate is the percentage of visitors who leave your website after viewing one page for less than 10 seconds – without visiting another, or triggering 2 or more conversion events. 
To improve bounce rate, focus on optimizing page load speed, enhancing content relevance using audience feedback, and ensuring clear navigation to encourage visitors to explore more of the site.
What is a good bounce rate for content?
A good bounce rate for content typically falls between 40% and 60%. However, the ideal rate varies based on the type of content and the website's goals. Lower bounce rates indicate that visitors are engaging with more pages, but context matters when assessing what qualifies as a "good" bounce rate.
What causes high bounce rate?
High bounce rates result from various factors like slow page loading times, irrelevant or unengaging content, confusing website navigation, poor mobile responsiveness, and intrusive pop-ups.
How good is your content?
Stop guessing from analytics data, start knowing from your audience
  No contracts
See plans and pricing ->