What is content feedback?
Content feedback refers to the ratings and comments given to creators to help them assess their content, know their readers, and identify areas for improvement.
Why should you collect content feedback?
There are numerous reasons why you should gather content feedback. Here are a few:
Many marketers rely solely on quantitative data, often leading to guesswork. Collecting feedback provides context behind the numbers – which analytics tools lack.

Creating content that appeals to various roles within the same target audience is difficult, as understanding reader demographics, roles, and content preferences goes beyond mere numerical analysis. Collecting content feedback easily solves this problem.

It's hard to understand what resonates best with your readers without asking them.
Collecting content feedback will help you:
Improve the user experience on your website

Leave readers with a good impression of your brand and expertise

Make your audience feel listened to

Show you're real in an age of AI content (people like people, who knew?) and that you care about the experience of your readers
What can you learn from content feedback?
You'll learn a lot.
Questions you'll have answers to after collecting content feedback via Rockee include:
Is content resonating effectively?
Use your overall Rockee score as a content benchmark (Net Promoter Score), and feedback boxes to collect reader insights.
2. Am I attracting the right audience for my intent keyword?
Use custom questions to learn more about the positions and industries of readers, or you could try and find out how far they are into their research or buying journey.
3. What do visitors want from my content?
Study reader feedback to uncover unique insights only they can provide.
4. How can I optimize and improve my content for the web traffic I've already got?
Analyse the suggestions from readers to improve your content's quality, sometimes it can be really simple fixes which improve experience. This in turn is a great signal to send to Google, that you regularly optimize your content.
More engaged on-site metrics like dwell time are also great signals for SERP.
5. What are the numbers telling me?
Compare the collected feedback with data from quantitative tools to understand numerical trends. High bounce rate? Reader feedback might reveal reasons behind it.
Low dwell time? Use feedback to find out why users don't stay on page – could be the content doesn't align with keyword intent.
How Rockee Comes In
Rockee is a content feedback platform that facilitates the collection of ratings and feedback from readers of your content, to provide insights that are beyond the capabilities of analytics tools. Essentially, we help you uncover insights about who your audience are, where they might be on their customer journey, and how you can optimize your content quality.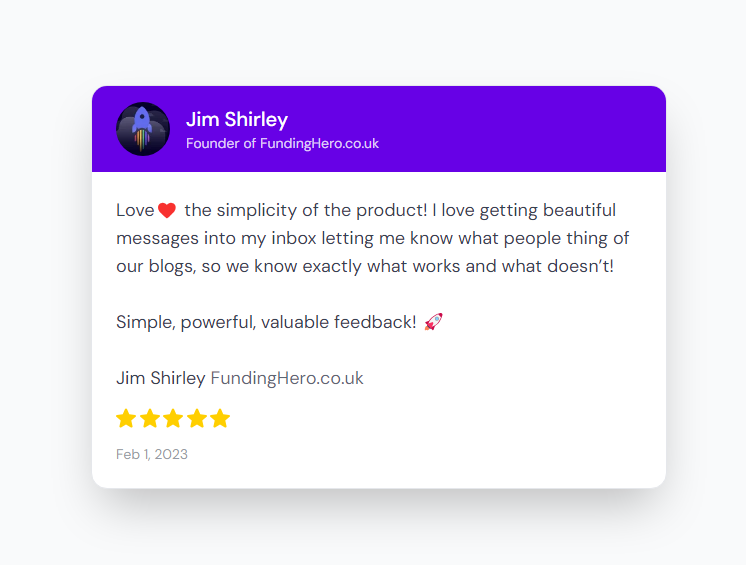 Using Rockee for a content feedback survey allows you to:
Create custom questions to learn more about your audience and the stage of the customer journey they are in. You can easily set up and install in minutes.

Collect feedback at scale, and use it to improve your content quality and SEO efforts.

Find out why content has low engagement rates in GA4, and conversely which content has the highest engagement or lead-gen rates to inform content planning.
How do I set up a content feedback survey?
To set up a content feedback survey using Rockee, follow the following steps. Note: Matt has recorded multiple videos to guide you through each stage.
If new to Rockee, start with the free forever plan by signing up. If you're a user already, simply log in here.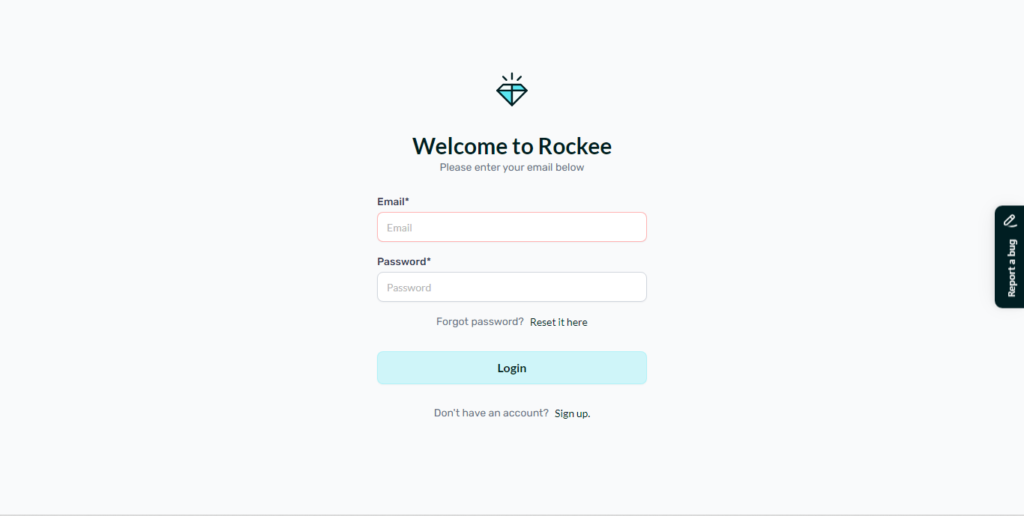 Stage 1: Setup
I've created a survey before, so I'll navigate to the left sidebar to set up a new one.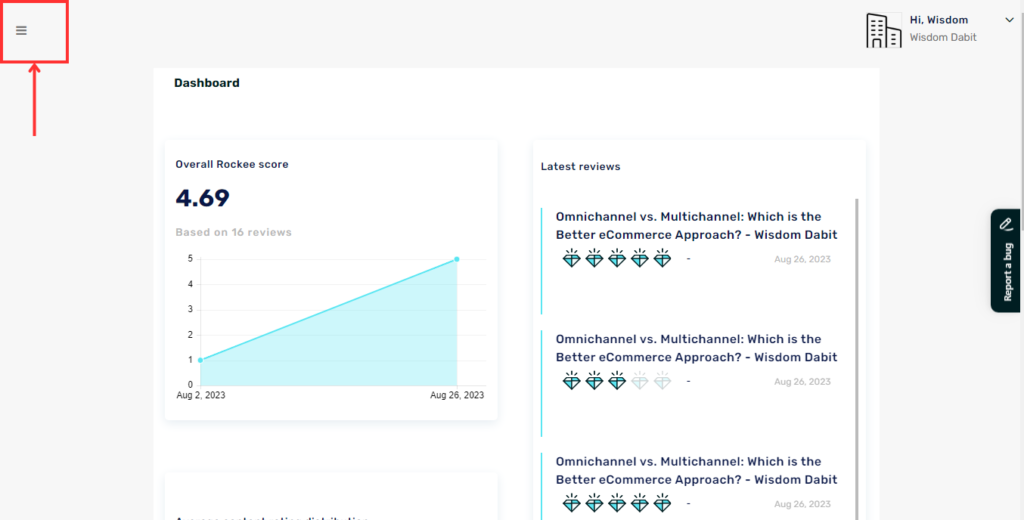 Step 1: Select "Setup" from the left sidebar
Step 2: From the Setup page, click "Add Widget"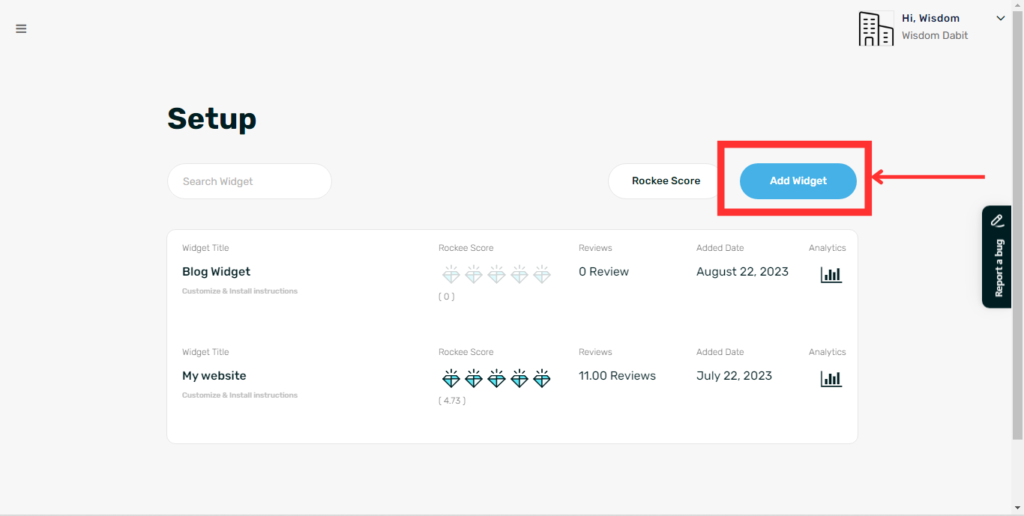 Step 3: Name your widget (e.g., "Blog content survey") and click "Add Widget."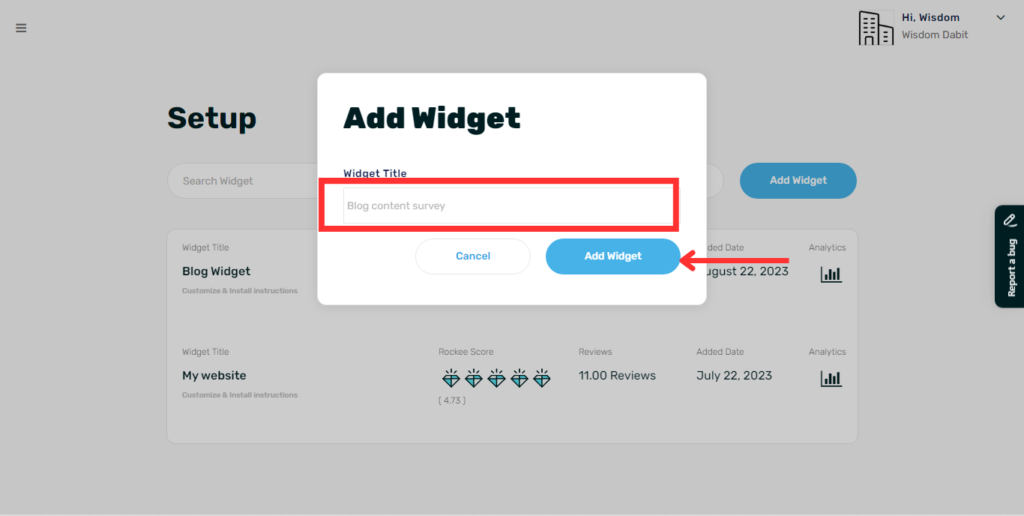 Stage 2: Customize Your Survey Questions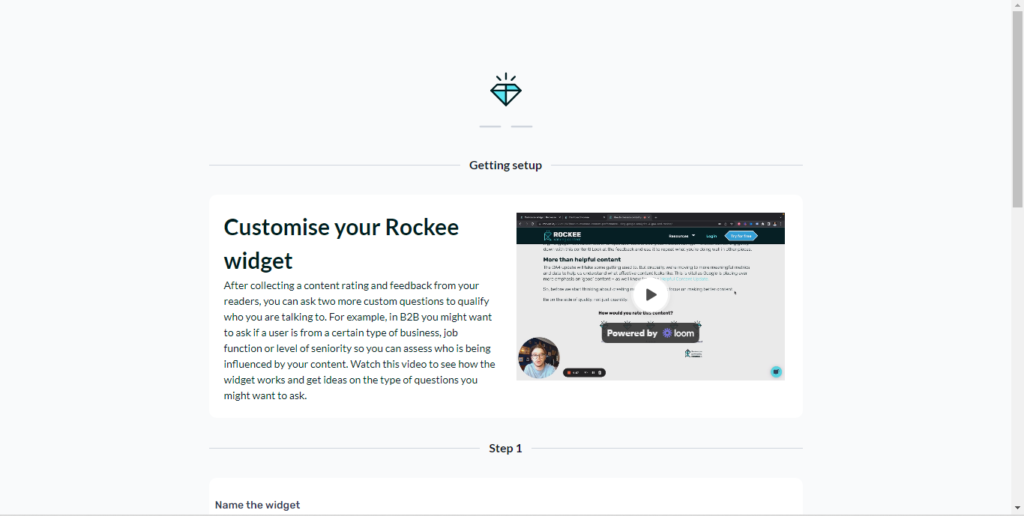 Step 1: Name the widget. We've done that already, so this step is covered.

Step 2: Edit the first question. By default, you'll have these departments shown. Choose the edit icon at the right corner if you wish to customize it for your survey.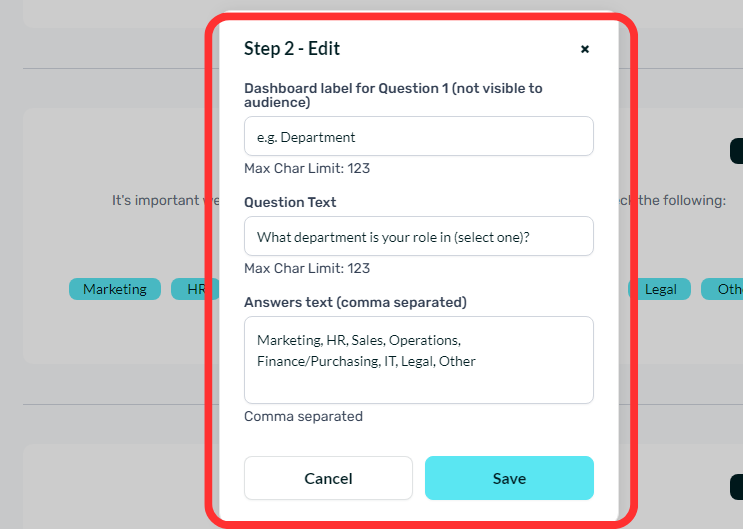 Step 3: The final question. Here, you can ask the reader's seniority level – whether they're an intern, a manager, a director e.t.c.,

Again, if you wish to customize the question for your survey, click on the edit icon, and save when you're done.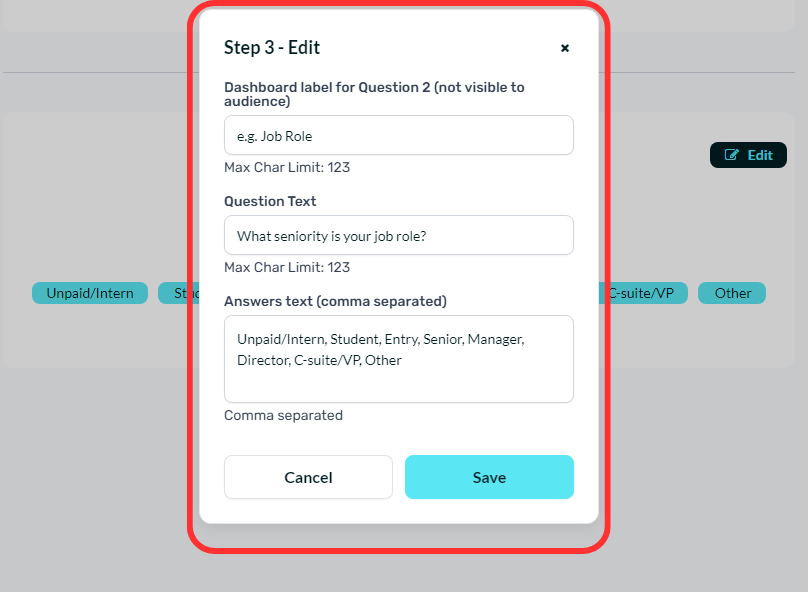 Step 4: Click "Continue" to proceed.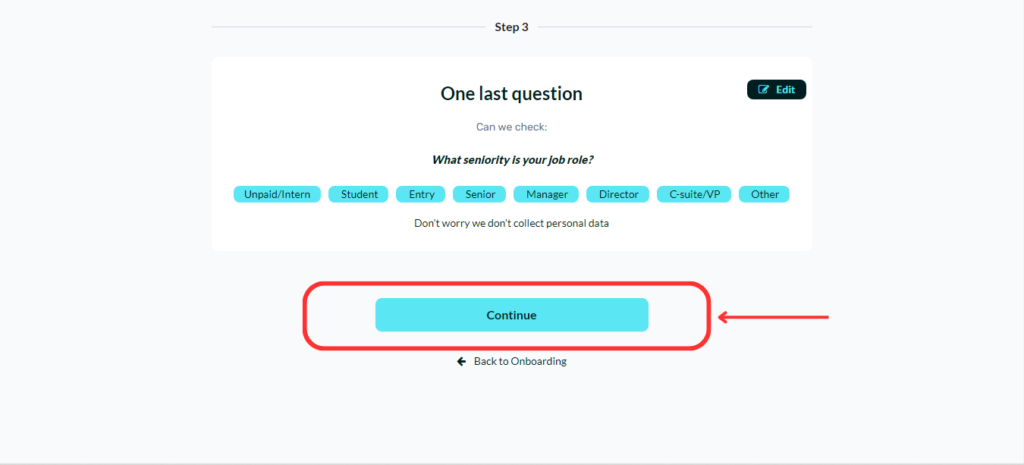 Stage 3: Install the Rockee header and collection widget scripts in your CMS template to start collecting survey answers and ratings
For a survey, it'll be best to go with the embedded website widget which is more visible. You can also opt for a chat-style widget, or a feedback landing page if you'd want to collect email and non-website feedback.
Again, there are videos to guide you at each step.
Step 1: Install the header code in the header template of your website.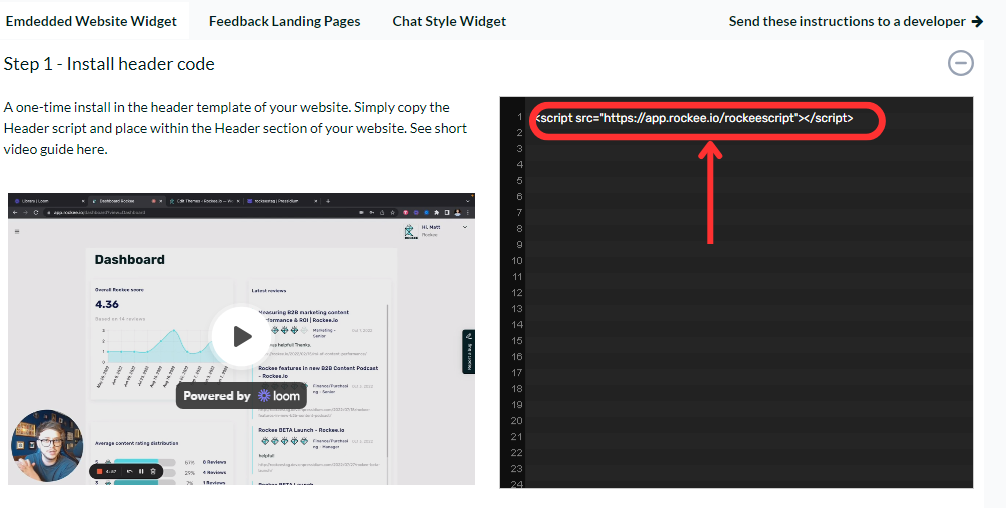 Copy the code from the right side – or this (<script src="https://app.rockee.io/rockeescript"></script>) – to the header template of your website.
Step 2: Install the Collection Widget code on the content hosting template or specific pages
Install the collection widget on any template used for hosting your content or manually if you'd like to have the widget on only select pages. You can copy the code from the right side.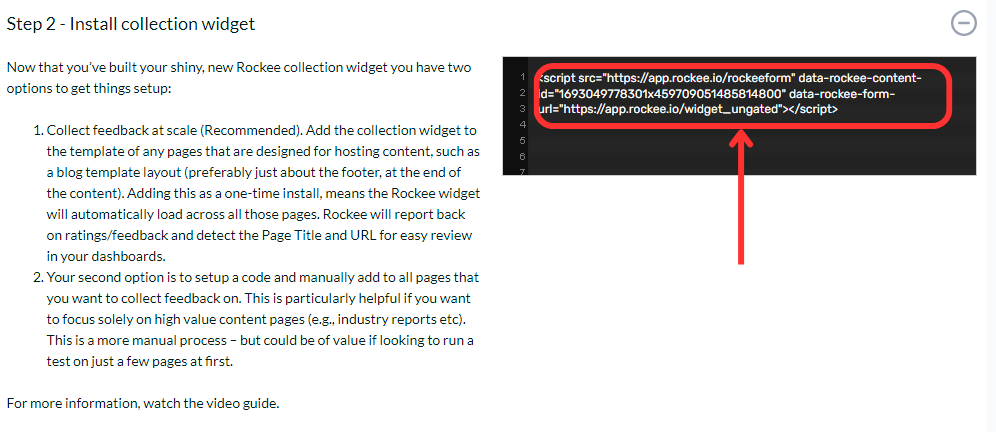 (Note: Codes are different for each setup)
Installing the code on any template used to host your content – preferably at the footer – would get the Rockee widget to automatically load across all of those pages. Rockee will report back on ratings/feedback, and automatically detect the page Title and URL for easy review in your dashboard. 
However, if you wish to collect feedback individually for each page, manually, copy and embed the code at the end of the content like I did for this post below.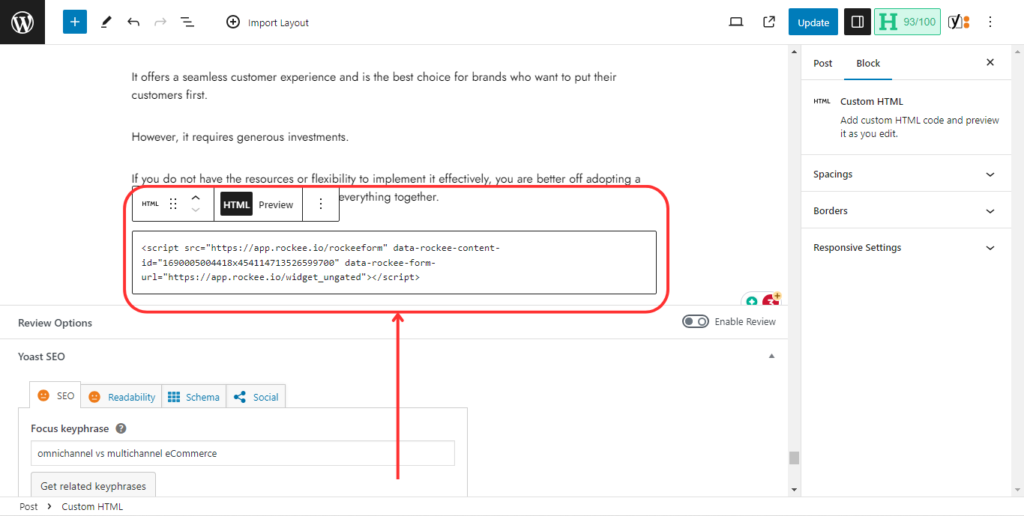 Stage 4: Save Changes and Start Collecting Feedback for your Survey
Check to confirm if you've correctly added the codes, and update the pages.
And your survey's live!
It'll typically appear like this at the end of your content:
Or like this if you opted for a chat-style widget:
Stage 5 (Optional): Place Trust Badges
Incorporating trust badges is an effective method to enhance content engagement.

(Source)
There are two ways of setting up for your survey:
Show badges at scale (highly recommended): Add the Trust badge code to the template designed for hosting content, such as a blog template layout. Adding this as a one-time install would automatically load it across all those pages, and Rockee will display survey ratings and feedback to visitors.

Manually add the code to pages you wish to show content feedback on: This is particularly helpful if you wish to focus solely on high-value content pages like industry reports for your survey. Choosing this setup would allow you to test your content feedback survey on a few pages first.
Why Rockee over Hotjar or other generic survey tools?
It's focused entirely on

content performance

, not your website's user experience – making it perfect for SEO and content teams to quickly understand which content works best – and also gives insight on how to optimize content accordingly.

You can embed content analytics from sources you already use like GA4 (This feature is coming soon)

Easy to use your feedback as social proof with Trust badges
Below's an example of a Trust Badge on the Thomas blog: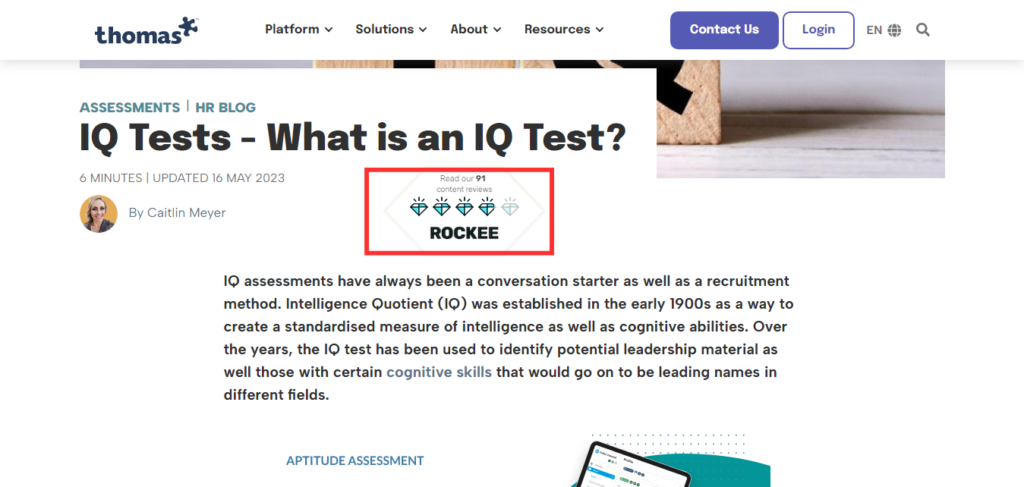 (Source)
     4. You can share the content your audience loves most on social media. 
This post by FundingHero – with an average 5-star review – won Content of the Week, and we shared it on LinkedIn.

     5. Our widgets load faster – enhancing website load times and overall performance due to their lightweight design.
| | | |
| --- | --- | --- |
| Feature | Rockee | Hotjar |
| 1. Audience Feedback | Collect real-time feedback on content to understand audience preferences. | Primarily emphasizes heatmaps with a limited emphasis on user feedback |
| 2. Content Optimization | Optimize content based on audience insights, enhancing its effectiveness. | Lacks emphasis on content optimization. |
| 3. Customizable Questions | Customize questions to gain insights into audience demographics and preferences. | Limited customization for gathering user data. |
| 4. Content Diversity | Covers various content types, from landing pages to PDFs, emails, and eBooks. | Focus primarily on website interactions. |
| 5. Trust Building | Utilize social proof badges and reviews to enhance content credibility and trust. | Less emphasis on building content trust. |
| 8. Performance Dashboards | Access content measurement and performance dashboards with insights and scores. | Lacks detailed content performance analytics. |
| 9. Loading Speed | Rockee widgets are lightweight and load faster | Widgets are heavy and affect page speed |
Content Feedback Survey (FAQs)
Why is content feedback important?
Content feedback is important because it helps you to improve content quality, engage users better, reduce bounce rates, and align content with audience preferences.
How do you use feedback to improve content performance?
You can use feedback to enhance content performance by identifying strong and weak content, addressing user concerns, tailoring content to audience preferences, and refining your approach to content optimization.
How good is your content?
Stop guessing from analytics data, start knowing from your audience
  No contracts
See plans and pricing ->