Creating content is one thing, maintaining it to stay relevant is another.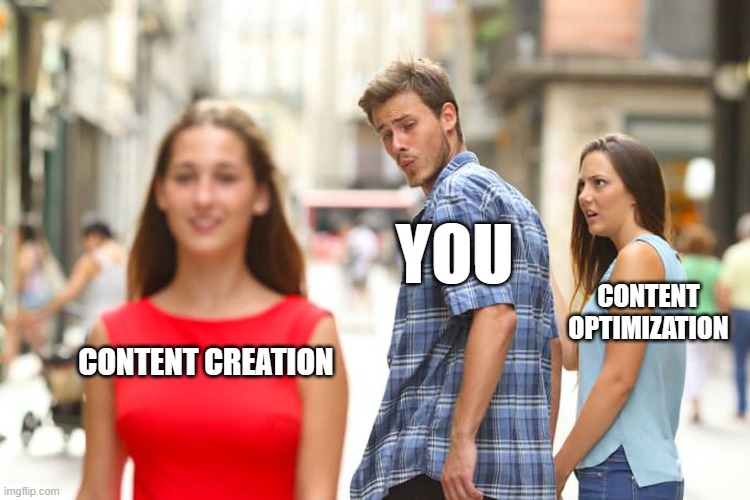 When trying to do content optimization, you should have a goal in mind – be it to perform better on search engines, increase engagements, or drive conversions.
What is Content Optimization, and Why is it important?
Content optimization is the process of choosing, structuring, and making adjustments to content over time – to ensure it's still relevant to readers, drives conversions, and performs well on search engines.
Back in 2006, Amazon conducted a study to see how page load times affected sales. The result? They found that an additional 100ms load time resulted in a 1% reduction in sales. This translates to roughly $5.1 billion today.
This study highlights how content optimization focused on speed and performance can directly impact sales and conversions. This post will cover how to optimize content for SEO, and how to optimize for engagement and conversions – alongside reader's feedback.
How to Optimize for SEO
Study the topic keyword and related keywords with tools like Ahrefs/Semrush

Analyze keyword density – using tools like YoastSEO and SEMrush writing assistant

Add visuals to improve the reader's experience

Add internal links to related content

Be tech friendly – check your site for core web vitals performance

Update regularly
1. Study the topic keyword and related keywords with tools like Ahrefs/Semrush
Keyword research involves finding out what words, phrases, or queries are used to search for information, a product, or even a service online.
This is important for search engine optimization because it tells you what your target customers are searching for, and how you can create content that matches their needs and expectations
Example: We used Ahrefs to conduct keyword research on this post's topic.
2. Analyze keyword density – Using tools like Yoast and SEMrush Writing Assistant
Keyword density simply refers to how often a keyword appears on a piece of content when compared to the total number of words on that page. Analyzing keyword density is important because it helps you to find out if:
You've adequately used the main keyword(s)

You've used a keyword in excess

There are new keyword variations and opportunities you can use to make the content better
You can use the Yoast SEO plugin, and SEMrush's writing assistant – both with free plans –  to analyze the keyword density of a piece of content.
3. Add visuals to improve the reader's experience
Visuals communicate messages faster and easier than text. Including pictures and videos improves the reader's experience by helping them understand your content much better.
Examples of visuals you can add to content include: Images, videos, infographics, and animations.
4. Add internal links to related content
Linking pieces of content together using descriptive anchor text signals to search engines and your readers that the pages are related, and helps them understand the context and relevance of your content. 
During page discovery and indexing, search bots use internal links to crawl and find new content on your site. Without properly adding internal links, some pages will go unnoticed.
5. Be tech friendly – Check your site for Core Web Vitals performance
A core web vitals performance test measures a website's performance in terms of loading speed, interactivity, and visual stability. These three aspects are what Google considers the core of a good web user experience. Running a core web vitals performance test will help you to:
Identify and fix issues affecting your website's performance

Improve your website's rankings on Google search results, as core web vitals are a part of the page experience signals Google uses to evaluate web pages

Increase your website's traffic, conversions, and revenue as better core web vitals lead to more engagement and loyalty from visitors
The core web vitals report in Google Search Console shows how your pages are performing based on real-world usage data.
Review and implement the recommendations from Pagespeed Insights to improve content experience. Once you've applied the changes, rerun the analysis to see if there are any improvements. 
To run a core web vitals performance test in search console, head over to GSC > Experience > Core web vitals.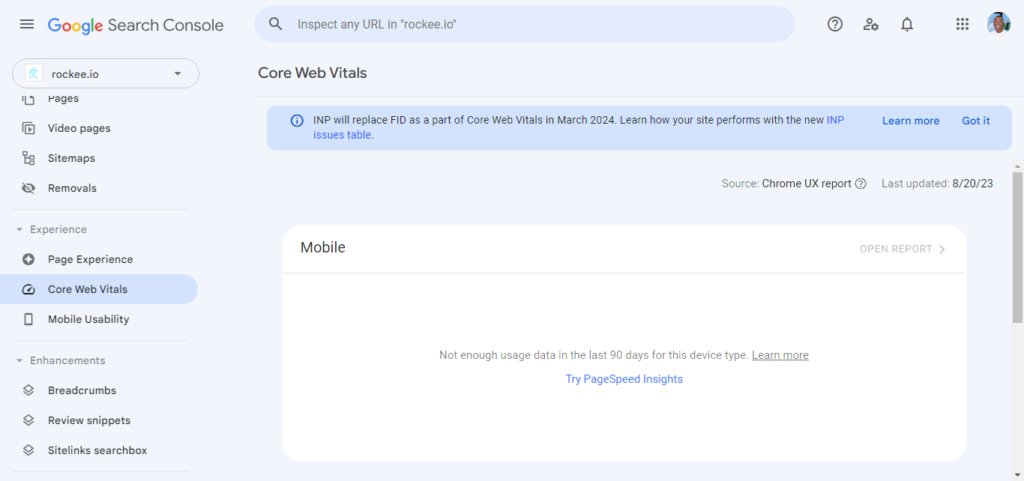 If your site doesn't have enough data, try the Pagespeed insights test. I ran it for Rockee, and below's a screenshot of the desktop report.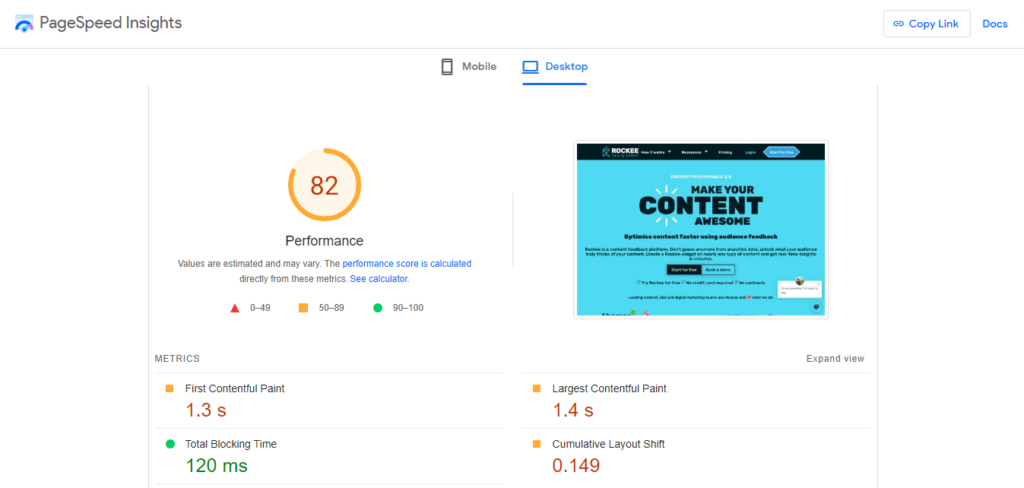 6. Update regularly
Updating content regularly indicates to search engines that your content is relevant, and is actively being maintained to provide readers with current information. This is particularly important for time-sensitive topics. Updated content also attracts more engagement – as readers prefer to read current posts on a topic.
Some changes you can implement during a content update include:
Editing titles

Adding new stats

Replacing old data graphs

Adding relevant keywords

Including new product features
How to Optimize for Engagement and Conversions
Ranking for a search term alone isn't a guarantee you'll get results – convincing your audience with helpful and persuasive content is. 
Moreover, ranking on search engines is great, and a major part of SEO – but the real success comes from creating content that truly connects with readers.
Content remains the biggest tool for increasing engagement and conversions as visitors don't buy from metadata on the Search Engine Results Page – they need to know your story, what problems you solve, and how your product or service fits in before they buy.
"To optimize content for conversions, the first step is to make sure the page is high-quality and relevant. This involves providing truthful and accurate content that meets the needs of the target audience. The content should also be easy to understand, navigate, and visually appealing. The next step is to create a clear and easily understandable call-to-action (CTA) that prompts visitors to take action. It should be specific and direct, guiding them on what to do next." – Matthew Ramirez (Founder of Rephrasely)
Through countless A/B tests & GTM's 'click url' parameter, I've observed that a well-placed, direct Call to Action outperforms any other generic one. Ensuring your audience knows exactly what to do next is key. – Ian Dukleth (SEO/Content Strategist at Ian Dukleth)
Why You Should Collect Data on User Experience with Rockee
The old way of content analysis and optimization involves using qualitative data to make decisions. Let's put aside the fact that a good number of these tools are not 100% accurate – there's a ton of speculation involved.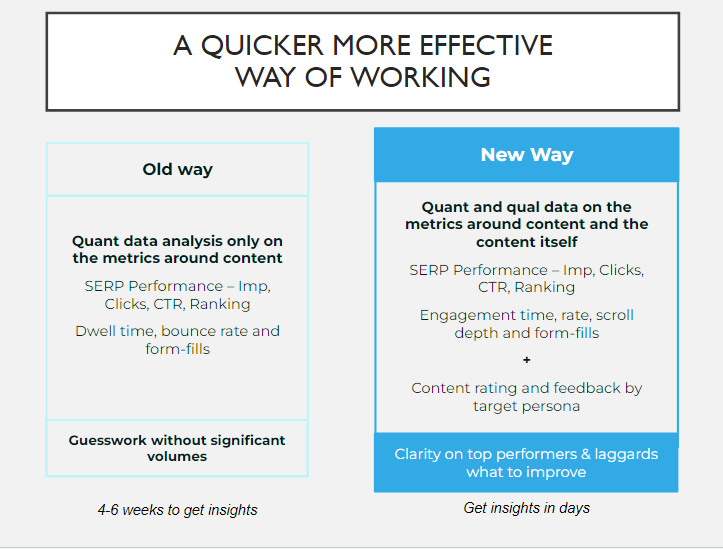 Use custom questions to learn more about your audience
With Rockee, there's no need to guess. You'll get the opportunity to use personalized questions strategically – to provide context for feedback.
You can figure out who your important customers are and where they are in their journey by asking them what job they do and why they're reading your content.
Create a performance benchmark
During the initial 30 days of using Rockee, you'll get an average content score for benchmarking purposes. This baseline score will serve as the starting point for your optimization efforts.
Our user base's scores typically range from 3.5/5 to 4.5/5, while the average brand achieves around 4.1/5 for their website content.
My site, for example, has an overall score of 4.73/5 from 11 reviews.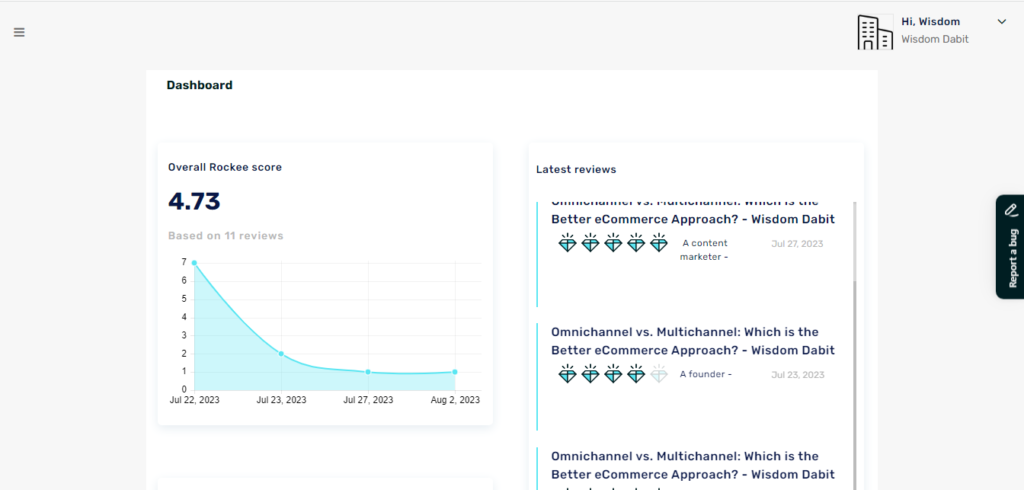 When to optimize based on feedback
To gauge performance, it's advisable to gather a minimum of 5 to 8 ratings for an article. Ideally, having 8 or more ratings (as recommended by Creswell & Creswell, 2018) provides a solid foundation for evaluating the top-performing and underperforming articles.
The feedback collected will typically fall under two categories:
Fix now – like grammatical errors

Fix later – like content planning and prioritization
Below's an example of feedback from a reader. The reader rated the content a 2/5  while the average content score from three reviews (it included) – is a 4/5.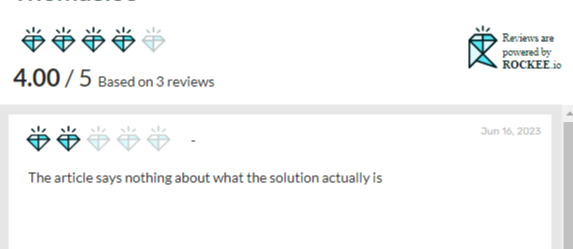 Now without this type of feedback, you'll never know the reader's thoughts, and how to make your content better.
Combining metrics from Google Analytics 4 – like 'number of users', and 'unique user scrolls' – with your overall rating/scores and feedback from Rockee will help you measure your content's performance better. You can also check conversions in GA4 and feedback from Rockee to see the type of content your audience likes, and those driving conversions.
Here's a little guide to explore, on how to measure content performance using GA4 and Rockee.
Want to optimize content better for conversion?
Create a free account to start collecting feedback from your audience.
Content Optimization (FAQs)
What are the keys to content optimization?
The keys to proper content optimization are keyword relevance, content feedback, engaging structure, concise formatting, and regular updates.
Why is content optimization important?
Content optimization is important because it enhances search visibility, boosts user engagement, and drives conversions by delivering valuable and relevant content.
What is the difference between content optimization and SEO?
Content optimization focuses on improving user experience, engagement, and conversions. Search engine optimization, while related, emphasizes more on techniques to increase search engine visibility and rankings.
How good is your content?
Stop guessing from analytics data, start knowing from your audience
  No contracts
See plans and pricing ->