What readers call quality content differs from how Google Identifies it. But what exactly is content quality? 
This post will touch on that, and also on how to measure content quality from three perspectives:
Internal approval from your team or business

Google's perspective

The reader's point of view
Want to know how to align all three? Here's the lowdown.
What is Quality Content?
To readers, quality content answers all their questions. To content creators, quality content is one their readers love and find helpful. To Google, quality content satisfies their E-E-A-T requirements. Flip everything around, and content quality means:
Writing that solves a problem

Writing that's actionable

Writing that satisfies Google, enough to be found by readers
Mark Evans, the principal marketer at Marketing Spark, thinks "Quality" is a subjective term when it comes to content marketing. "… It depends on how you serve target audiences and create content that delivers strategic and tactical insight that matters to them.
For example, quality content for some people are listicles that provide information about different options. If this type of content is relevant and impactful, it falls into the quality category.
Stepping back, quality content comes from truly knowing and understanding your audience, their problems, challenges, aspirations, goals, and questions. When you have this insight, content is a lot easier."
A Checklist to Use Before Launching Content
Going through a checklist ensures that you aren't missing important steps, and are right on track. Imagine publishing a post to find out it's riddled with typos – not because you aren't good at English, but because you didn't check for those errors before publishing.
Here's a good checklist to guide you in ensuring the content's quality is good enough to publish.
Have you checked the content's quality?

Does the content match keyword intent?

Have you used images and videos to break things up?

Did you run a grammar check?

Is your content authentic?

Has an internal subject matter expert contributed to/reviewed the content?

Is your content's UX visually appealing?
1. Have You Checked the Content's Quality?
To check the quality of content, ask the following questions, using Lily Ugbaja's LEMA framework:
Is the content logical?

Is it explicit?

Is it memorable?

Is it actionable?
2. Does the Content Match Keyword Intent?
Aligning keyword intent with content creation ensures that what you are creating matches the expectations and needs of your target audience, as well as those of search engines.
Example: For this post, we're targeting readers who want to know how to measure content quality. Therefore, we have to use the right keywords for you to find us, and the right sections to cover everything you need to know.
2. Have You Used Images and Videos to Break Things Up?
Including images and videos break the dullness of text and add variety. For instance, some readers might prefer watching a video to reading a long post.
3. Did You Run a Grammar Check?
Using a tool like Grammarly to highlight grammar, spelling, and punctuation errors you might have missed when writing or editing ensures your content is understandable – and rid of errors.
4. Is Your Content Authentic?
Authentic content sincerely resonates with readers. With the influx of AI writing tools, more low-quality content is being pushed out daily. AI content checkers are great for discovering the quality of content as they use artificial intelligence to detect whether the content was generated by a machine or a human.
A common sign that a piece of content was written by AI is the use of repeated words or phrases. For ChaGPT, these include: "However", "in addition", "in conclusion", and "additionally". I mean, even ChatGPT gave me a whole list of them.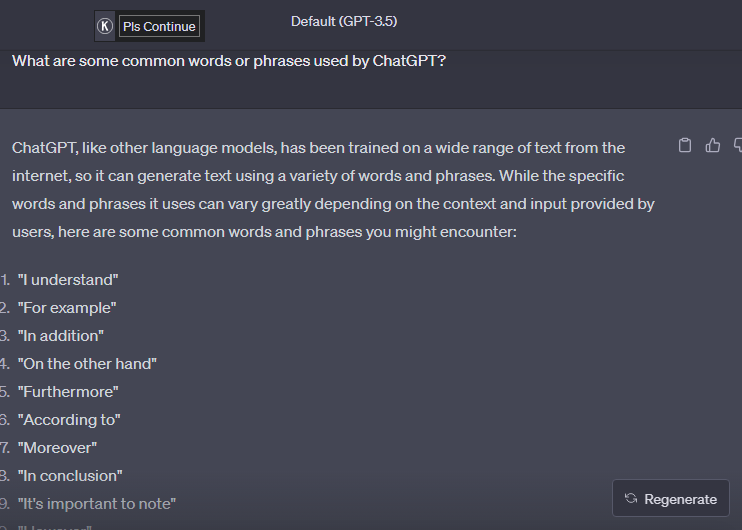 This post highlights some additional ways you can use to detect AI-written content and also to check if your content sounds like AI wrote it.
Sara Stella Lattanzio, a B2B content strategist, and advisor, thinks AI content lacks empathy and distinctiveness – and I agree. I mean, AI doesn't have access to my swipe file.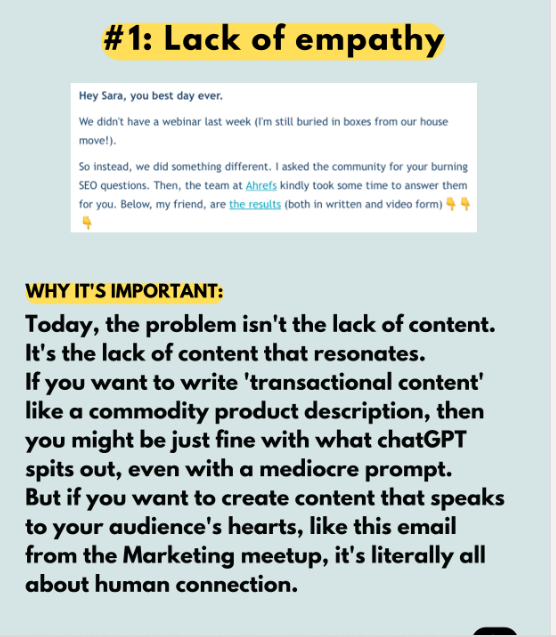 (Source)
5. Has an Internal Subject Matter Expert Contributed to/Reviewed the Content?
A good process for creating content would be for the writer to find the expert in their own business on that subject matter and get insights from that person – to accurately inform readers. SeedLegals do this really well, by including contributions from experts in their content. Here's an example: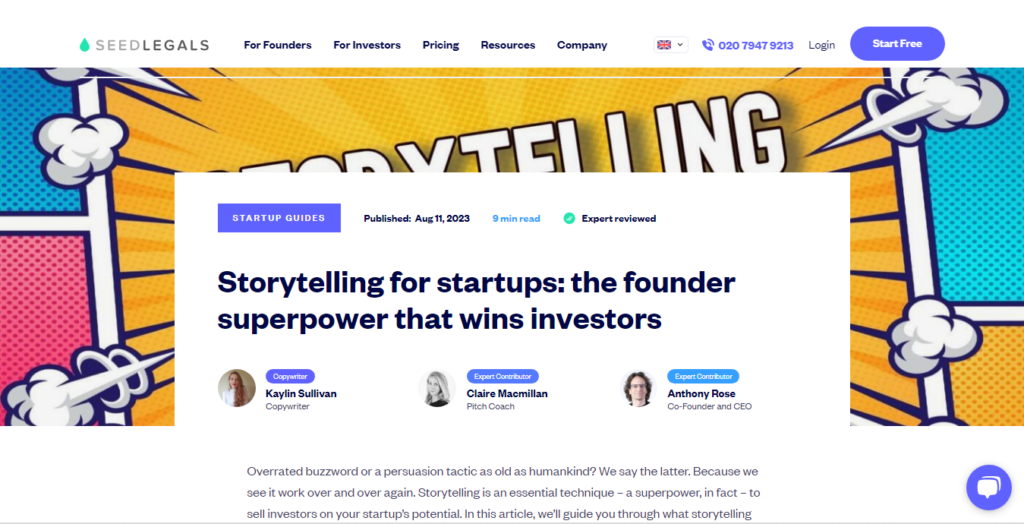 (Source)
"Content creators should focus on showcasing subject matter expertise, citing reliable sources, and maintaining a transparent and credible online presence. These elements bolster content quality and build user trust, resulting in stronger engagement and better search rankings." – Derrick Hathaway (Sales Director at VEM-Medical)
After the content's created, have the subject matter expert review it.
When an internal expert reviews content, they can identify inconsistencies and inaccuracies that the writer may have overlooked as a result of a lack of expertise. Doing this ensures content is credible, and prevents you from spreading false information.
6. Is Your Content's UX Visually Appealing?
If your website's layout is ugly, a good number of readers will leave immediately after they notice.
"Ever walked into a cluttered room and felt instantly overwhelmed? That's how readers feel on a messy site. A sleek, easy-to-navigate website makes your content pop, and tells your readers, "Hey, we're professional, and we care!" – Sudhir Khatwani (Founder at The Money Mongers)
In this post, Matt highlights how Ahrefs uses visual signposting to reassure readers with:
An author's bio showcasing the writer's expertise

Stats showing how well their content is accessed, linked to, or discussed on social media

Multiple sharing options

A table of contents for readers to skip to parts they are interested in

A call to action for readers to signup for their newsletter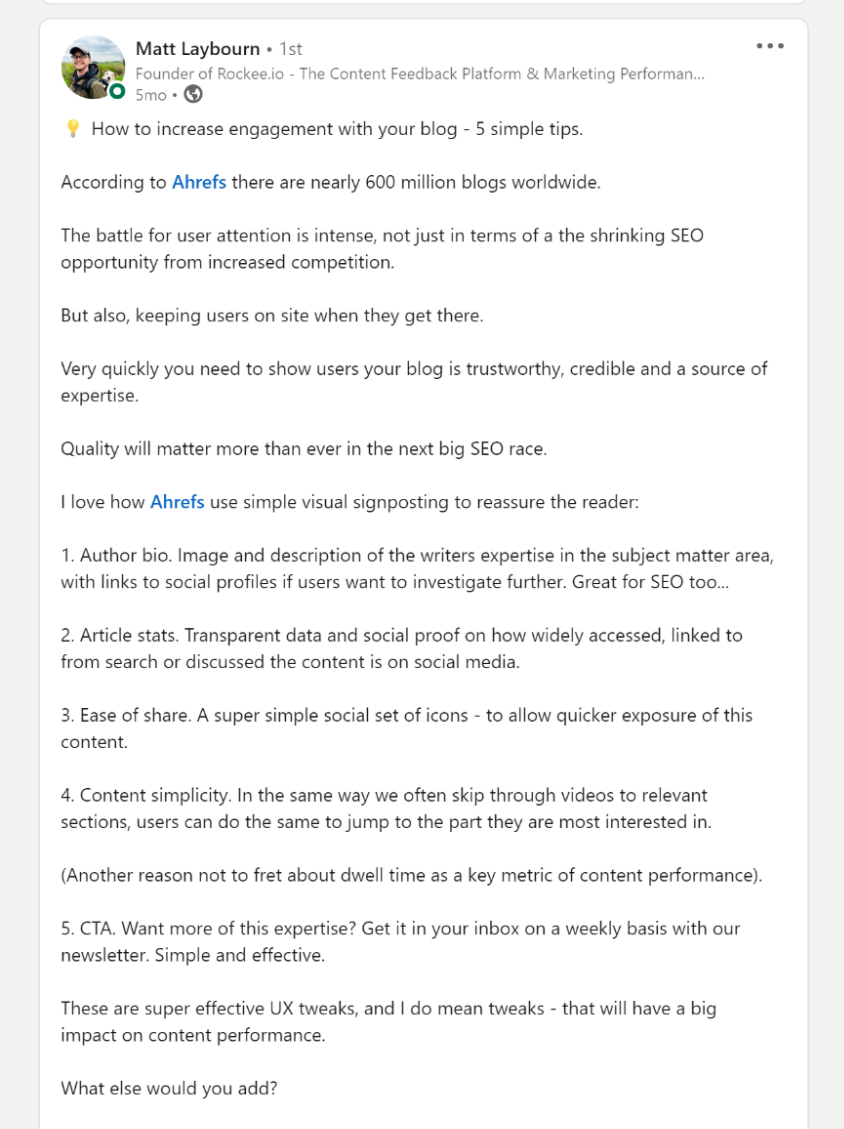 (Source)
Also, use attractive typography and reasonable amounts of white space.
Our website is super "clean" by design. We don't use sidebars or run ads on the pages because we want the user experience to be on point! We've received many compliments over the years that our website is nice to read/engage with. So my opinion, from first-hand feedback, is that a nice easy-to-use experience on your website conveys quality to the content itself. – Hilary P Johnson (Business Growth Consultant at Hatch Tribe)
Google's Perspective on Content Quality: E-E-A-T
The recent addition of an "E" in Google's search quality evaluator guidelines means Google favors content where the author has first-hand experience on the topic. E-E-A-T stands for Experience, Expertise, Authoritativeness, and Trustworthiness.
The Google Search Quality Guidelines are mainly about helping people quickly find good websites and content.
More on that here
"Regarding E-E-A-T, with the rise of AI writing tools, large amounts of low-effort content put out there that sounds more convincing than ever. And it's not a bad thing to use these tools, but to stand out, you'll need to do more than just use what they give you without any editing.
Expertise and Experience are two main things that AI writing tools can't do in any genuine way, and right now, even fail to convincingly pretend to cover these areas. This makes Expertise and Experience critical areas for content writers and editors to inject into their articles to stand out from the coming wave of AI written content." – Gabriel Ramuglia (President at Input Output Flood LLC)
When checking content on your website, there are some important questions you should ask. These questions help you to see things from Google's perspective.
Is the information trustworthy?

Did someone conversant with the topic write the content?

Are your facts correct?

Are there spelling or formatting errors?

Is the content new and authentic?

Is the content very detailed?

Would you save or show the content to a friend?
You can study the guidelines here to learn more about how Google measures content quality. 
Chapter 8.3 of it talks about what it takes to achieve a very high level of E-E-A-T.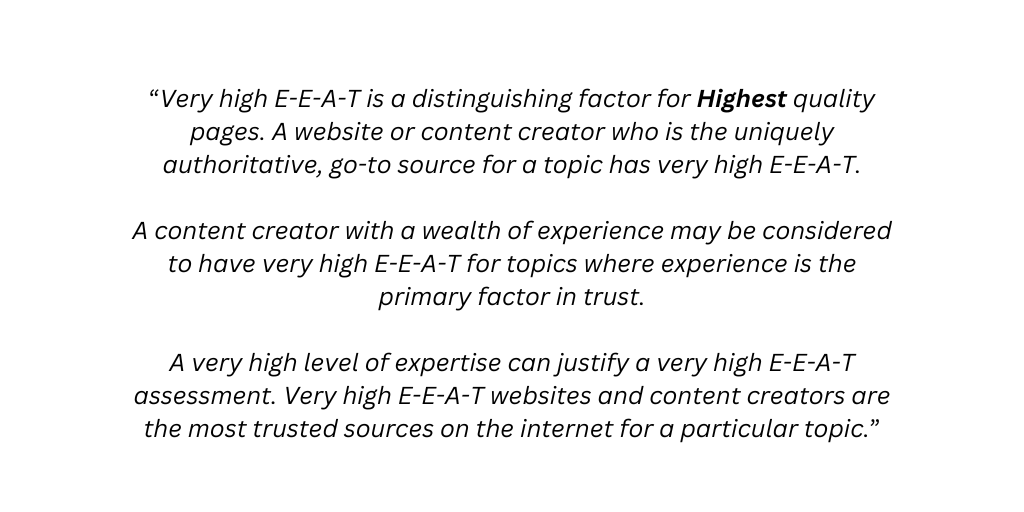 Measuring Content Quality From The User's Perspective: Quantitative Metrics and Benchmarks
Engagement time and rate as well as conversions are common metrics used by SEO and content teams to measure the impact of content.
However, these metrics don't tell who your readers are, and what they truly feel. Content feedback does.
Including user ratings and feedback to gain insights into the quality of your content tells you:
How readers rate your content

What readers think about your content, and its quality
With Rockee, you can embed user ratings and customizable questions on website content, and the insights collected can be used to adjust content based on reader preferences and expectations.
In Summary: Content Feedback helps you to Measure Content Quality, and Optimize Content Faster 
Content quality is a lot, but here are three things to keep in mind:
Creating quality content is important

Measuring the quality of content is important

Optimizing content using audience feedback is crucial
Sign up for any plan on Rockee to:
Get to know your audience through customized questions based on their industry, seniority, job role, or stage in the customer journey

Get feedback on

website

and

non-website

content – from landing pages, blogs, pdfs, newsletters, videos, and even live event content

Understand more about your content's performance – besides analytics data – using content measurements and performance dashboards that show who's reading, their content scores, as well as feedback.
4. Embed and analyze the performance of Trust badges, as well as their impact on content conversions and content engagement.
I want content feedback >>>>>>>>>>
How to measure content quality (FAQs)
What is content quality?
Content quality refers to how good, valuable, and reliable a piece of content is. 
What are the main components of quality content?
The main components of quality content are accuracy, reliability, and explicitness.
What is quality content?
Quality content is content that's valuable, reliable, and engaging.
How good is your content?
Stop guessing from analytics data, start knowing from your audience
  No contracts
See plans and pricing ->